BALER, Aurora – To assess the efficiency and effectiveness of dispute resolution strategies and techniques implemented by the members of the Lupong Tagapamayapa in their respective barangays and to determine their adherence to prescribed guidelines set by the DILG, the 2019 Lupong Tagapamayapa Incentives Awards (LTIA) Provincial Awards Committee (PAC) convened on March 19, 2019, 2:00 PM at Mayor's Conference Room, Municipal Hall, Baler, Aurora.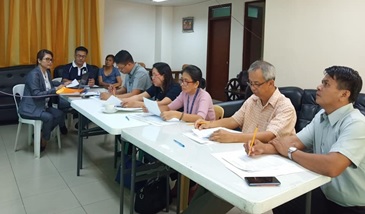 DILG Provincial Director, Atty. Ofelio A. Tactac, Jr., CESO V, said that the search aims to evaluate how the barangays handle settlement of disputes filed by their constituents in their level, to endorse unresolved cases to proper courts, and to incentivize barangays with Lupong Tagapamayapa that have outstanding performance in the delivery of their duties and functions.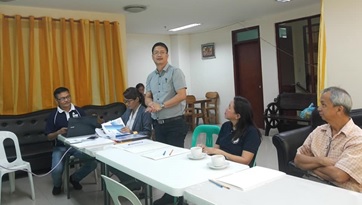 The LTIA was established through Executive Order 394 s. 1997, which aims to strengthen KP as an indigenous conflict resolution structure, institutionalize a system of granting economic benefits and other incentives to the Lupong Tagapamayapa which demonstrates exemplary performance, and generate greater awareness and support from various sectors of the society on KP as a potent vehicle toward social ordering and human development.  
The municipal nominees for 1st to 3rd Class Municipalities Categorywere Brgy. Pingit of Baler and Brgy. Umiray of Dingalan. These barangays were assessed based on three criteria: Efficiency in Operations (35%); Effectiveness in Securing the Settlement of Interpersonal Dispute Objective of the Katarungang Pambarangay (30%); Creativity and Resourcefulness of the Lupong Tagapamayapa (25%);Area or Facility for KP activities (5%), and Financial or Non-Financial Support (5%); with a total of 100%. The quantity of settled cases against filed, quality of settlement of cases, and compliance with the terms of settlement after the cases have been solved is also a factor in evaluating the nominated barangays. After a thorough evaluation, Brgy. Umiray, Dingalan was hailed as the 2019 Provincial Outstanding Lupong Tagapamayapa for the 1st-3rd Class Municipality Category.
The provincial entries will undergo another round of evaluation by the LTIA Regional Awards Committee to determine the winners at the regional level. 
The PAC is chaired by PD Tactac; together with Ms. Susan Bitong, representative from the Provincial Prosecutor's Office (DOJ-Aurora); Hon. Maria Elena F. Nicer, Vice President, Liga ng mga Barangay; Dr. Luisito G. Teh, representative from the PPOC; and Ptr. Noe M. Genovea, ACS Area Adviser (CSO representative). Also present in the initial table evaluation were LGOO VII Ariel G. Espinosa, Cluster Team Leader, LGOO II Jonnie L. Glorioso - LTIA Provincial and Alternate Focal Persons; ADA IV Philip Gerald DC. Esteves; ADA III Alex B. Peña; and ADA I Lolita G. Valdez.