On July 10-12, 2017, the Liga ng mga Barangay – Dinalungan, Aurora conducted the Seminar-Workshop on the Formulation of CBDRRM Plan, GAD Plan and BCPC Plan cum Advocacy on Federalism at Crown Legacy Hotel, Baguio City.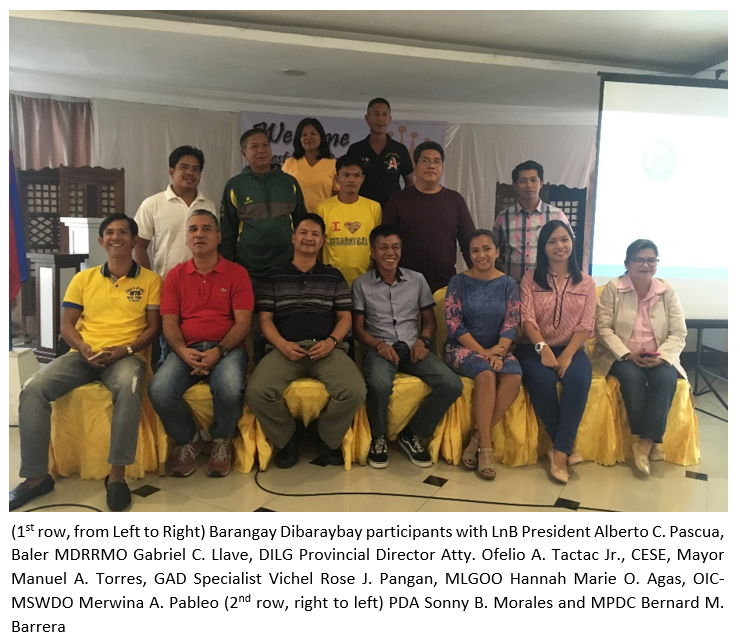 The fast approaching submission of the Sangguniang Barangay's 2018 Annual Budget called for the Barangays' immediate action on the submission of the statutory plans namely the Community-Based Disaster Risk Reduction and Management Plan, Gender and Development Plan and Barangay Council for the Protection of Children Plan as an integral part of their Annual Investment Plan and Annual Budget.
Incumbent barangay officials has sparked interest over awareness on Federalism which dubbed as "PHederalism." DILG Aurora Provincial Director Atty. Ofelio A. Tactac Jr., CESE, discussed the basic concepts of Federalism including the manner of transition of government from unitary form to federal form.
Gabriel C. Llave, MDRRMO of Baler, facilitated the discussion and workshops on the formulation of CBDRRM Plan. GAD Specialist Vichel Rse J. Pangan facilitated the lecture-discussion on Barangay Gender and Development Planning and Budgeting. MPDC Bernard M. Barrera facilitated the formulation of the BCPC Plan.
OIC-MSWDO Merwina A. Pableo and Project Development Assistant Sonny Morales also assisted the Liga ng Barangay MLGOO Hannah Marie O. Agas was also present during the activity as the training coordinator.