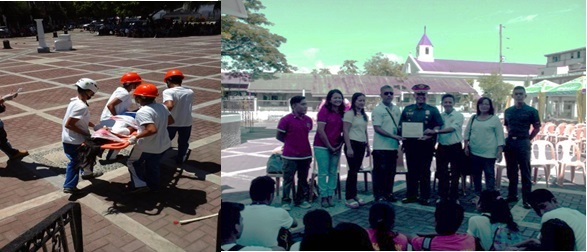 As part of the celebration of Disaster Consciousness Month, the Local Government Unit of Baler conducted the 2nd Municipal Emergency and Disaster Rescue Challenge 2015 at Baler Municipal Plaza on July 31, 2015.
The activity was highlighted with the participation of 310 personnel from the thirteen (13) barangays, secondary schools and Inter- Agencies/Volunteers competed in Knot Tying, Bandaging, Basic Life Support/CPR and Emergency Rescue Transfer.
Municipal Mayor Nelianto C. Bihasa lauded the activity and manifested his full support in the activities.
The municipal mayor said that the activities aimed to prepare the local populace in addressing and responding to the needs of a particular affected community or population at the height of disasters such as typhoons, tsunamis or earthquakes as well as emergencies like fire and disease outbreaks.
"This will allow our officials, employees, volunteers, and residents at the municipal and barangay levels to prepare our people on what to do before, during, and after calamities in order to avoid casualties," Mayor Bihasa said.
The objectives of the activity are to assess the level of competency of Baler Rescue Teams in terms of response and preparedness during emergency and disaster; organize, train and equip the local emergency response teams; promote and raise public awareness the importance of preparedness in times of emergency and disaster; further develop the emergency and disaster rescue operation skills of Barangay/Municipal/National Agencies/NGO Volunteers rescue teams; and develop competitiveness, sportsmanship and camaraderie among the participants.